Thanks to a great crew of engineers for inviting me onto the menu at the Exeter Phoenix to headline Wednesday night's event – they did a wonderful job and it was packed out! Daunting to see all those faces young and old – a superb generational mix – and hopefully I kept them awake with 'Hunter Killers: From Hitler's Fall to Putin's Rise'. It was amusing for me as a 70s and 80s kid to take the stage at the same venue a couple of nights after Alexei Sayle – 'allo John, got a new talk? I used to really enjoy his Sunday Mirror column… I wonder which event did more business at the Phoenix bar?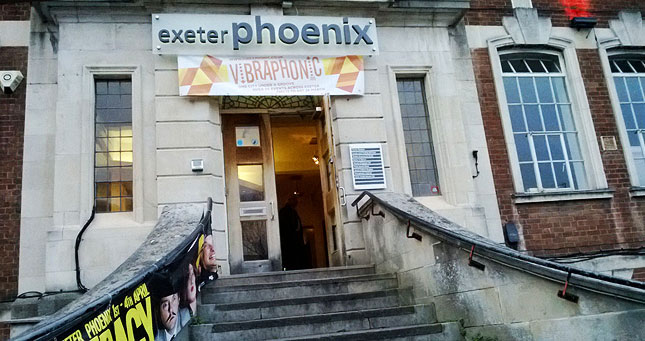 This way for the IMechE 'Hunter Killers' talk: An exterior view of the Exeter Phoenix. Photo: Iain Ballantyne.

It was all in aid of an expansion drive by the Institution of Mechanical Engineers (IMechE) in Devon and Cornwall, trying to bust the myth that the South West of England is just cream teas and pasties and sunburned tourists flocking to 'the English Riviera'. It is in fact home to dynamic engineering enterprises, some of them (such as Devonport Dockyard) host to work that is of strategic importance in the defence of the UK, supporting tens of thousands of jobs across the region and further afield. Much of the engineering work in the South West also has global significance.
Certainly Will Newby and his Devon and Cornwall Area Committee of IMechE pushed out the boat (pun intended) with support from other young IMechE members – they were all energetic and enthusiastic, but in a cool way. Will did a stand-up job (pun intended, again) as MC for the Exeter Phoenix event.
After my bit, Rob Forsyth, retired Royal Navy submarine captain and a onetime 'Teacher' on the prestigious 'Perisher' command course, provided insight into his naval adventures. Rob's exploits feature in a major way in my book 'Hunter Killers' , hence his presence. Upon leaving the Royal Navy, Rob became a director of Westland Group plc, so another engineering angle there. Rob Forsyth's segment had better jokes than mine I suspect. I especially enjoyed his asides on runs ashore in New York following the Cuban Missile Crisis and how he made history by taking female sailors to sea for a few days in his nuclear-powered submarine during the late 1970s.
For more on all that and also how Rob and his crew rode out a terrifying storm in HMS Alliance (his first command in the early 1970s) and a few years later, (while captain of HMS Sceptre) how he pursued a Russian aircraft carrier across the Mediterranean – read the book! Rob's exploits when training future submarine captains as 'Teacher' on Perisher are, of course, also in there. It's worth noting that he has been a keen supporter of preserving HMS Alliance at the Royal Navy Submarine Museum (RNSM) for many years. These days a visit to HMS Alliance is a multi-sensory immersive experience.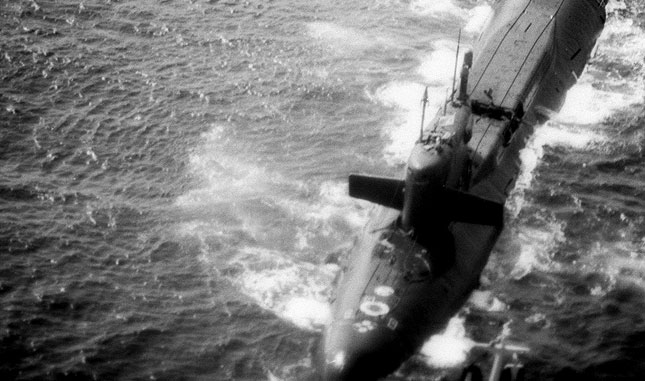 Dangerous days: As touched on in the Exeter talk, the Soviet ballistic missile submarine K-219 in late 1986, with smoke issuing from a ruptured missile silo aft of her fin. It was one of the most dangerous episodes in the Cold War when disaster was only narrowly avoided. Photo: US DoD.

The other speaker at the Phoenix was Mike Homer, Managing Director of Submarines for Babcock Marine and Technology, who explained how the world's most complicated machines (submarines) are maintained at HMNB Devonport. As someone who reported in depth on the epic 'battle of the dockyards' for the multi-billion pound Trident submarine refit contract in the 1990s, it was fascinating to hear how the dockyard has evolved since.
Also met some great people at the book signing element afterwards – thanks also owed to them for showing an interest in my efforts to bring the hidden history of the Cold War to light. Meeting members of generations not even born during those (sometimes) terrifying years was most enjoyable and I was impressed with their interest and knowledge. I hope 'Hunter Killers' entertains and educates them further…and in a thrilling style.
As I stressed during the talk, it is important we know more about what really went on under the sea during those dangerous days. Knowing at least some of what actually happened between the late 1940s and 1991 will, hopefully, help us to ensure cataclysmic mistakes are not made as a new East-West confrontation intensifies. That, after all, is a major (and deeply serious) challenge confronting the younger generations, not least my own children.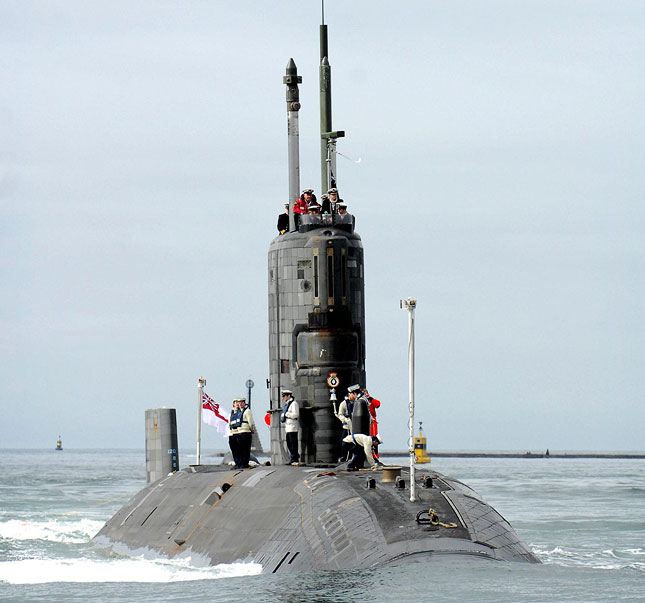 Still holding the line in the defence of Britain: The nuclear-powered submarine HMS Triumph returning to Devonport from a deployment. Photo: Royal Navy.