Warspite 100
Warspite 100
November 2013 saw the 100th anniversary of the launch of one of the greatest warships ever built. For it was on a late November day in 1913 that 30,000 people, including the most famous and important British statesman of the 20th Century, witnessed the future HMS Warspite going down a slipway at Devonport Dockyard. It was a momentous event at a time when dark war clouds loomed over Europe and Britain was involved in a deadly battleship construction race with Germany.
In 2013 a major commemorative event was held on the site where Warspite was built. The aim was to salute the extraordinary technical revolution that construction of Warspite and her four sister super dreadnoughts represented, but also to mark the beginning of a remarkable story.
The long lifespan of Warspite would see the most battle honoured warship in British naval history fight to safeguard the nation in two world wars. Led by the HMS Warspite Association, the 100th anniversary event this November will salute the sacrifice and courage of thousands of sailors who lived and fought in the battleship during four decades. Some of them even gave their lives in the ship or were badly wounded and would carry the scars for the rest of their days.
Starting life as a Devonport Division ship, Warspite would later be based in Portsmouth though she ended her days running aground in Cornwall on the way to the breakers yard in the late 1940s. Warspite's amazing story is also the story of a navy and a nation, for she was created and launched when Britain was at the zenith of its imperial power.
She then held the line for the country from Jutland in 1916 – where Warspite at one stage held off the entire enemy fleet – to actions during the 1940s, from the Arctic to the Mediterranean and the Indian Ocean. Her guns destroyed most of the Kriegsmarine's destroyer force at Narvik, made an Italian battle fleet retreat and were the first to bombard German ground troops in Normandy on D-Day.
The Warspite was the vessel many felt should have been preserved for the nation to remember how crucial the Navy was in Britain's fight for survival. This did not happen but instead her memory has been kept alive by the HMS Warspite Association, with continuity until the 1990s, as the last vessel to carry the name was a nuclear-powered hunter-killer submarine of the Cold War.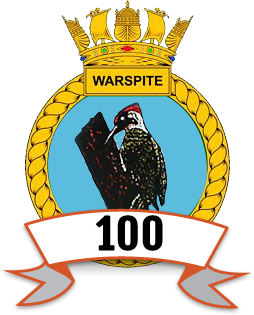 For more information
on the HMS Warspite
Association and
Contact us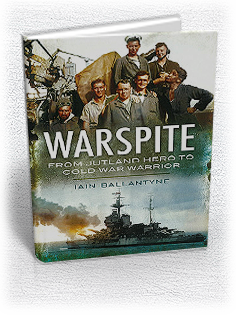 To read Warspite's
incredible story in full
Buy the book