Killing the Bismarck – Paperback Edition

Killing the Bismarck
Paperback edition
The paperback edition of 'Killing the Bismarck' has now been published. It contains a new section of material that aims to further our understanding of this pivotal event in the Second World War, namely the pursuit and destruction of the German Navy's flagship in May 1941.
It contains fresh eyewitness testimony to what happened during key phases of the Bismarck Action. Such material proves that, more than seven decades on from events at the heart of the drama, our perceptions of what really happened can still evolve.
Aspects of the story recounted in the hardback edition stirred up controversy, particularly the suggestion that some of Bismarck's men may have tried to surrender at the height of the battle.
The new material includes a look at other contentious episodes in the Bismarck Action, including which Swordfish was responsible for causing crucial damage to the German battleship's steering and cruiser HMS Dorsetshire's part in saving some of the Bismarck's crew.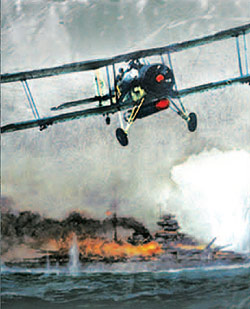 The new edition again features the powerful painting 'The End of the Bismarck' by Paul Wright on its cover. The spine retains the composite image of a Swordfish (using a photo by Jonathan Eastland with Paul's work). This is meant to depict one of the Ark Royal's aircraft turning away without dropping her torpedo on the morning of 27 May 1941, which is a realistic depiction of events.
'Killing the Bismarck' paperback edition review in Navy News (May 2014 edition) – Click for larger version.
'the definitive account of the
British part in the battle'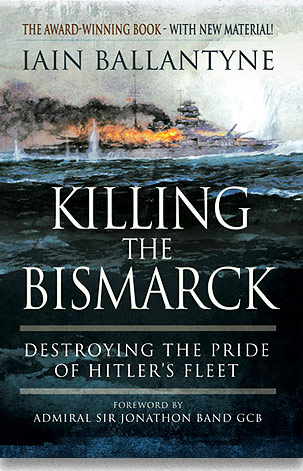 Pen & Sword Maritime
Paperback
320 pages
ISBN: 9781783462650
Published: 28 February 2014
Did the Bismarck try to surrender?
Any enquiries regarding 'Killing the Bismarck' should be
emailed direct to Iain Ballantyne