WARSHIPS International Fleet Review Magazine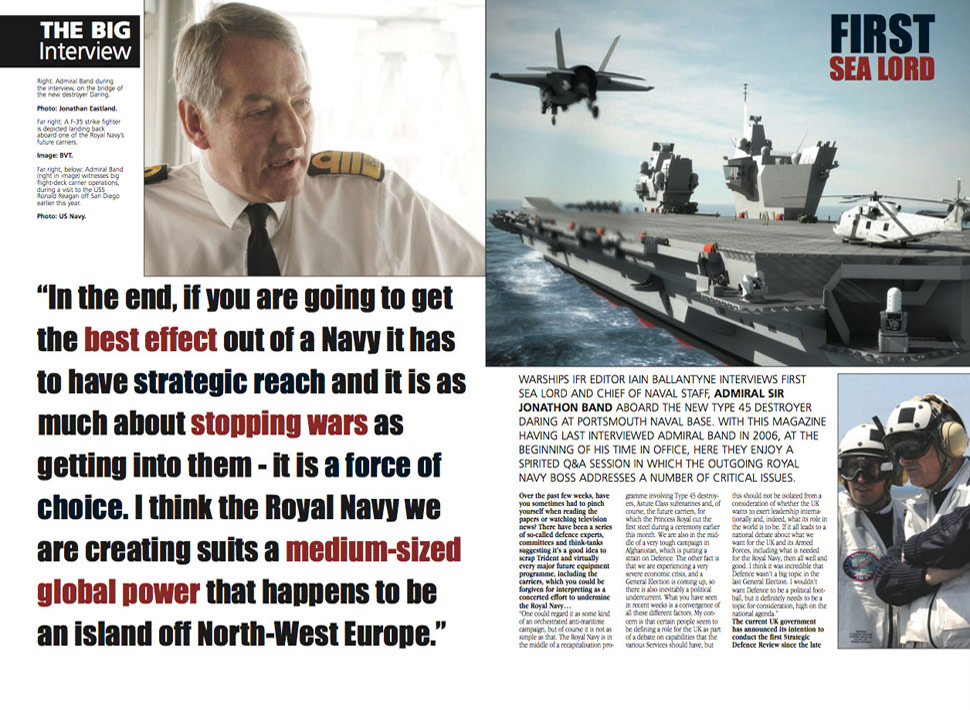 WARSHIPS International Fleet Review Magazine
Since its foundation in 1998 WARSHIPS International Fleet Review has evolved into the world's leading and only high street naval news monthly magazine of its kind. As its founding and current Editor, at the invitation of HPC Publishing, Iain Ballantyne has played the leading role in creating all aspects of the magazine's content, its editorial stance and also its design.
The primary aim of WARSHIPS IFR is to provide a forum for the navies of the world. It energetically seeks to examine naval and related geo-political issues in a fashion that is forthright, robust and saying things serving sailors dare not.
The magazine's avidly read Odin's Eye leader delivers salty views that make government ministers and civil servants wince, while also providing food for thought in the top echelons of naval forces themselves.
WARSHIPS IFR's correspondents have in recent times joined warships on anti-piracy patrol off Somalia, voyaged up the Amazon, visited vessels on the line of confrontation with Iran in the northern Arabian Gulf and sailed with a NATO counter-terrorism task group in the Mediterranean.
Interviews with top naval officers have included the leaders of the British, Australian, Canadian, Pakistan, Peruvian and Japanese navies. Senior officers of the American, Danish, Italian, Turkish and South African naval forces are among others who have also been quizzed.
WARSHIPS IFR is read not only by professionals, but also those with a general interest in naval affairs. Copies have been seen in front line US Navy strike carriers and Royal Navy frigates around the world. One edition was even spotted on the desk of British Foreign Secretary William Hague.
The magazine regularly includes in-depth profiles of elements in the Royal Navy, US Navy, Royal Australian Navy and Royal Canadian Navy. It also offers news and features on most other maritime forces across the globe, particularly in the key areas of Asia-Pacific, Latin America, the Middle East and Europe.
In addition to naval news and analysis, WARSHIPS IFR also covers heritage issues as well as carrying book and DVD reviews and other features of interest.
Presenting high impact images, using accessible language and deploying a simple yet dynamic design makes the magazine valued and admired among its target audiences.
Warships International Fleet Review Magazine website

Guide to the Royal Navy
The 'WARSHIPS IFR Guide to the Royal Navy' is a highly successful mix of warship profiles, commentary and analysis articles on the present, past and future British fleet. It contains potted operational biographies for various vessels and some other units.
There are also vessel type outlines with relevant stats and imagery. Now in its seventh edition since 2003, the 'WARSHIPS IFR Guide to the Royal Navy 2014/15' is for sale via high street newsagent W.H. Smith. If you can't spot this essential naval guide on the shelf then order it.
Alternatively visit the HPC Publishing web site and get one sent direct to your door.