The Deadly Trade – Paperback edition

How submarines went from
puny craft to world-ending power
In the 21st Century nuclear-powered submarines are just about the most complex and costly warships in existence. Creating and operating them is the mark of a top tier nation. In 1901, many admirals who believed submarines would be worthless in war regarded them with contempt.
Yet, today, armed with nuclear weapons submarines possess the ability to destroy millions of lives by potentially inflicting world-ending devastation, threatening a level of destruction that is beyond our imaginations – impossible for us to conceive that anyone would ever unleash.
There can be no doubt the submarine in its various forms is a powerful weapon of deterrence and a means to mercilessly wage war or exert control in both coastal waters and the open ocean. Across history it has also offered – or seemed to promise – a means for weaker nations to deter (or even try and defeat) stronger ones.
'The Deadly Trade' tells the epic story of how submarines progressed across the centuries and also introduces the reader to a vast human cast, not least the mad, bad and dangerous to know inventors and other early pioneers.
The cast of colourful and courageous characters in 'The Deadly Trade' includes a former monk who created submersible boats to assist the cause of Irish liberation and a spy who hid Confederate submarine secrets in her bonnet during the American Civil War. We also meet many daring young submarine captains who perished along with the men they commanded in their undersea craft.
During the two world wars no corner of the globe was safe from the depredations of these submarines. The spectacular (and terrifying) story continued with the Cold War and into the 21st Century, making the submarine the most powerful vessel ever built, carrying enough nuclear weapons to end life on Earth.
At the heart of this thrilling narrative lurks power and danger, revealing some of warfare's murkiest secrets.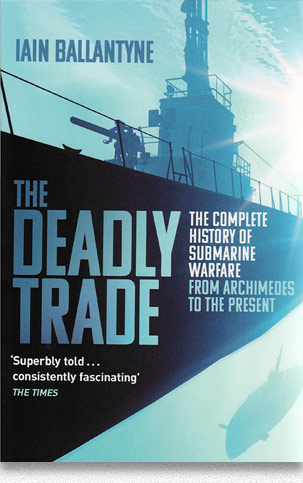 'THE DEADLY TRADE: The Complete History of Submarine Warfare from Archimedes to the Present' is published by Weidenfeld & Nicolson (752 pages, paperback £12.99/Kindle £3.99). Available through Amazon and Waterstones  and other book retailers.