Media Coverage for 'Hunter Killers'
Media Coverage of 'Hunter Killers'
'Hunter Killers' was mentioned, with some its content discussed, when Iain was asked to contribute to 'BBC World Service – The History Hour', broadcast on 25th January 2014. The topic in question was the 60th anniversary of the world's first nuclear-powered submarine (USS Nautilus) being launched. Max Pearson and Iain discussed, among other things, the submarine construction rivalry between East and West during the Cold War and the lifestyle of British submariners as they patrolled the ocean deep. www.bbc.co.uk/podcasts/series/history
'Hunter Killers' mentioned on "War is Boring" blog
'Hunter Killers' mentioned in two newly published posts, with one featuring the amazing story of an offbeat brainwave that sought to destroy the stealth of Soviet submarines in a bizarre fashion (as recounted in the book): 'NATO Bombed Soviet Submarines With Tiny, Annoying Magnets'.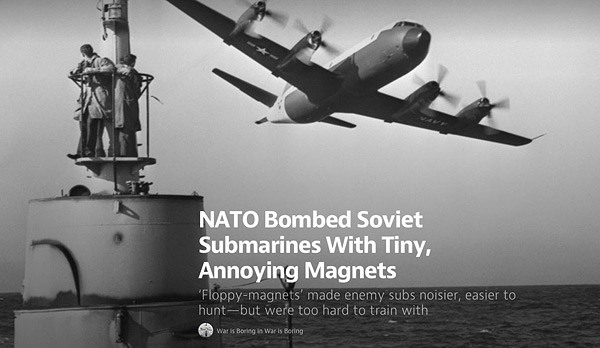 Meanwhile, the other post looks at the games submariners play off-duty that draw on their tactical skills and willingness to think outside the box to win. 'Run Silent, Run Cheat: The Sneaky Hobby Games Navy Submariners Play'  Also, another interesting thread in 'Hunter Killers'.
'Hunter Killers' mentioned in the Sunday Times on 12th January 2014
It was in the context of a quote from Iain in an article about the Russian Navy's new attack submarine and its significance for the West. Iain will discuss the Kremlin's wonder submarine in a forthcoming blog, which will incorporate what he told the Sunday Times. In the meantime here is a taster for the Sunday Times article (though you have to subscribe in order to access the complete item).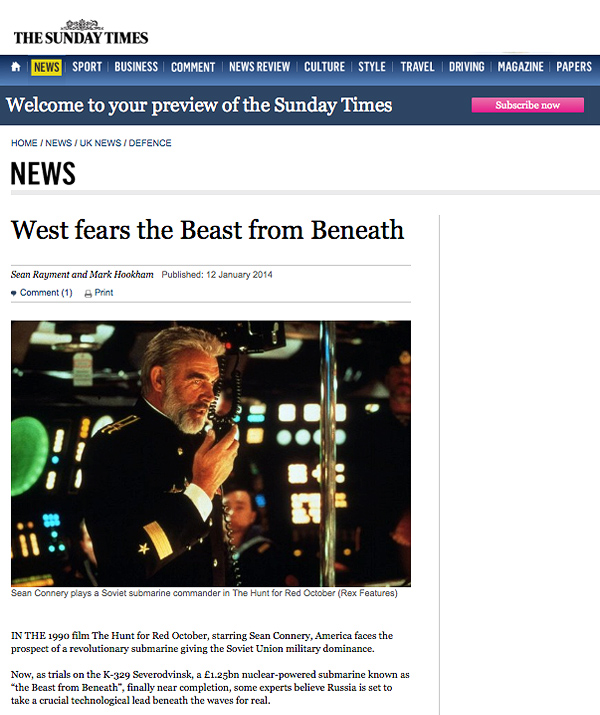 The International Business Times also picked up the story and used a quote from Iain Ballantyne, referring to him as 'a writer and expert on submarine warfare' though he is too modest to claim such a thing, merely being the author of 'Hunter Killers' of course. For more on Russia's new submarine, see blog post here.
Guest blog for Julian Stockwin
The novelist Julian Stockwin, creator of the rip-roaring Thomas Kydd naval adventures, accorded Iain the great honour of a guest blog on his site. As a long-time admirer of Julian's work Iain was delighted to be asked, especially as he had just finished reading the latest thrilling instalment of the Kydd series, 'Caribbee'. The guest blog is here.