The Deadly Trade

Out Now
THE DEADLY TRADE:
The Complete History of Submarine Warfare from Archimedes to the Present
'THE DEADLY TRADE' is a fascinating and comprehensive account of how an initially ineffectual craft evolved into the most powerful and terrifying vessel ever invented.
At the heart of this thrilling narrative lurks danger and power as acclaimed naval writer Iain Ballantyne reveals some of warfare's murkiest secrets.
The cast of colourful characters includes an American who devised plunging boats to attack the British, then switched sides and tried to help the Royal Navy defeat Napoleon; a former monk who created submersible boats to assist the cause of Irish liberation; and a spy who, during the American Civil War, hid Confederate submarine secrets in her bonnet.
The reader is plunged into the epic convoy battles of the twentieth century's world wars, when hopes of victory were placed on the shoulders of daring young submarine captains, many of whom perished along with the men they commanded.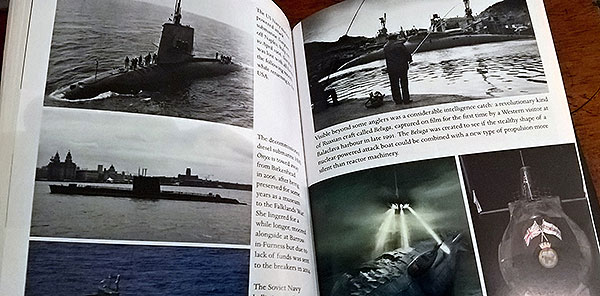 We learn of efforts by the British to seize Enigma material from U-boats, how Germany's so-called Grey Wolves were not always brave or invincible, and the role of American submarines in bringing Japan to its knees.
Also covered are attacks by Royal Navy X-craft on Tirpitz, Nazi plans to bombard New York with primitive cruise missiles, and episodes when the Cold War era turned hot, not least the sinking of the Belgrano. The story concludes with a look at the resurgence of submarines as political and military tools and the threat of nuclear annihilation they pose.
Jacket description from the hardback edition, used courtesy of Weidenfeld & Nicolson (W&N).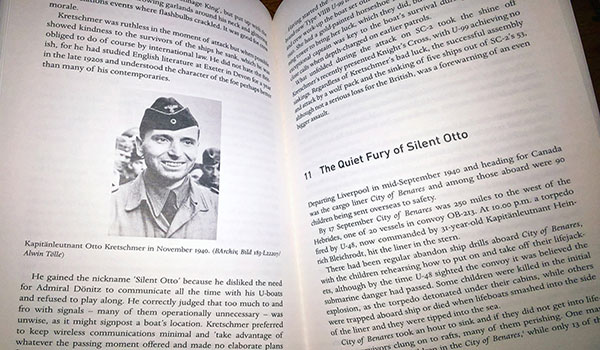 Feast your eyes on this…
'Ocular demonstration is the best proof …'
Quote by American submarine inventor Robert Fulton, circa 1805, after demonstrating how a torpedo could blow up a ship. His words, about visual evidence being the proof of something's worth, surely also apply to 'THE DEADLY TRADE'. Fulton's exploits in Georgian England and Napoleonic France feature in Part One of the book.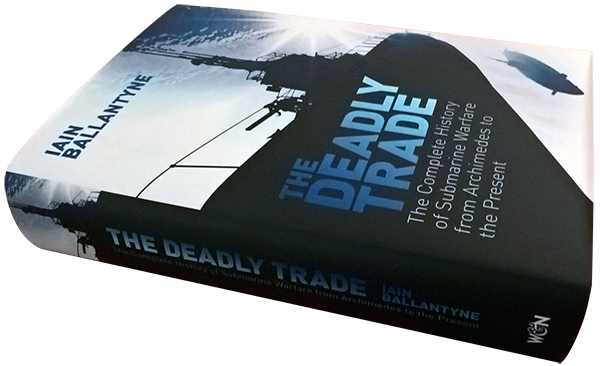 Photos: Iain Ballantyne.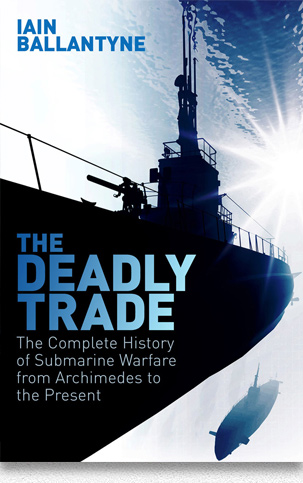 'THE DEADLY TRADE: The Complete History of Submarine Warfare from Archimedes to the Present' is published by Weidenfeld & Nicolson (752 pages, hardback £25.00/eBook £12.99).
Available through Amazon and Waterstones  and other book retailers.