The Soviet Union's top spy in America during the 1950s used the cover name Rudolf Abel but was in truth William August Fisher. Born on Tyneside, in the north east of England, in 1903, Fisher worked at Swan Hunter as a teenage apprentice draughtsman when the shipyard was constructing both warships and merchant vessels.
In 1957 the FBI apprehend Fisher in a New York hotel after busting into his room, bringing to an end his bid to set up a spying network seeking out intelligence on American nuclear weapons, including the Polaris Submarine-Launched Ballistic Missile (SLBM).
The parents of 'Colonel Abel', as he was known in the USA during his trial, were anti-Tsarist political activists who returned to Russia in 1921 after the communists seized power. Fisher worked in signals intelligence for the Soviets during WW2 before utilising his British upbringing to successfully insert himself undercover in the USA in the late 1940s.
At one stage he worked alongside Konon Molody, who, as 'Gordon Lonsdale' in the early 1960s would run the notorious Portland Spy Ring in the UK, stealing secrets of the Royal Navy's first nuclear-powered submarine, HMS Dreadnought.
Steven Spielberg's movie 'Bridge of Spies' begins by masterfully plunging us into 'Abel's' humdrum life in late 1950s USA as he tries to go about his espionage as unobtrusively as possible. The spy, a talented artist, takes an easel and paints with him for some landscape work to cover a visit to a dead letter drop.

An East German policeman stands guard over a worker constructing the Berlin Wall, to ensure he does not try to escape to the West. Former US Navy officer turned lawyer James Donovan had to cross from West to East Berlin to negotiate for the spy swap on the so-called 'Bridge of Spies', as featured in the Steven Spielberg movie. Photo: U.S. Information Agency.
'Abel' (Mark Rylance) is later arrested in his underpants back at the hotel and put on trial (fully clothed). He is defended by insurance lawyer, and former US Navy officer, James Donovan (Tom Hanks) who had also been an advocate at the post-war Nuremberg war crimes trials. Despite public outrage Donovan manages to get Abel sentenced to prison rather than receive the death penalty.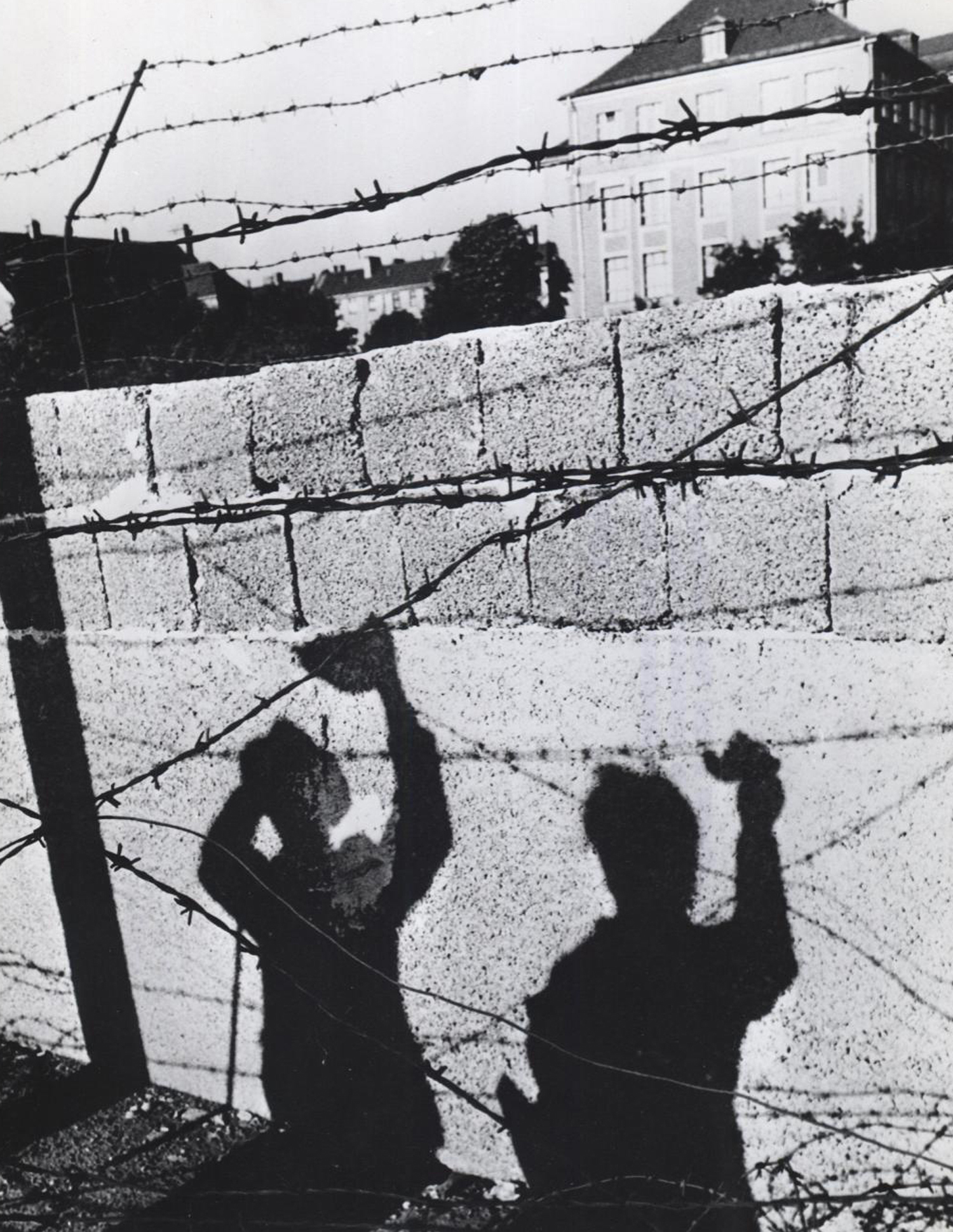 Fast forward to early 1962, and Donovan plays a pivotal role in springing shot-down U-2 spy plane pilot Gary Powers (Austin Stowell) from imprisonment in the Soviet Union in exchange for 'Abel'. The swap takes place on the Glienicke Bridge, which spans a stretch of cold water lying between West and East Berlin. At Checkpoint Charlie – one of the controlled gateways through the newly constructed Berlin Wall – another release takes place simultaneously, of American student Frederic Pryor (Will Rogers) earlier arrested by the East Germans for being a spy.
A picture is worth a thousand words: In October 1961, the shadows of two West Berliners waving to friends across the East-West border fall symbolically upon the concrete of the newly-built wall in a frame of barbed wire. Photo: U.S. Information Agency.
That, in essence, is the core story of 'Bridge of Spies'. It does play fast and loose with some of the facts but succeeds in powerfully and movingly conveying the big moral issues of the time as well as plunging us convincingly into the places where it all happened.Despite its simplistic boiling down of a complex story it still presents a multi-layered yarn, never resorting to histrionics or pompous moralising. It never gives in to the temptation of having Hanks' character indulge in ludicrous action man antics or gunplay.
Mark Rylance's subtle performance preserves the enigma of 'Abel' (who during his trial did not reveal his real British identity) while still conveying the inner paradoxes of a cultured man working for a brutal totalitarian state.
'Bridge of Spies' (20th Century Fox Home Entertainment) will be released on DVD and Blu Ray formats this spring.
This is a version of a review to be published in the forthcoming March 2016 edition of WARSHIP IFR magazine (due out on February 19). www.warshipsifr.com
Iain Ballantyne is the author of 'Hunter Killers' (Orion Books) which tells the story of the Royal Navy's submariners and submarines during the Cold War.
Among other things, 'Hunter Killers' looks at the activities of the Portland Spy Ring and certain aspects of Soviet espionage in the UK that sought to snatch Royal Navy submarine secrets. Iain is currently writing 'The Deadly Trade', a history of submarine warfare from Ancient times to today, for the same publisher.