Review by Major Gerry Bartlett, former defence journalist
on the Daily Telegraph and Sunday Telegraph *
As an Army man with a secret fear and loathing of the sea and ships generally, I was surprised to feel this book taking me over. It sparked the imagination and demanded total attention as I was plunged into epic convoy battles, 'when hopes of victory were placed upon the shoulders of daring young submarine captains – many of whom perished alongside the men they commanded', as the book's blurb (and the author) puts it.
Strong, authoritative and perhaps upsetting stuff, Iain Ballantyne's new book literally drips with overwhelming tales and interest on practically every one of its 752 pages. It is practically impossible to single out any particular chapter of this un-put-downable book as particularly fascinating, since they all are – in equal measure.
In a postscript to this formidable and addictive book the author writes: 'We have voyaged across the vast span of submarine warfare history to a point where vessels that men once dreamed of in order to explore the wonders of the deep, now carry cargoes of nuclear annihilation.'
He goes on: 'The new rivalry between Russia and the West – including the construction of ballistic missile boats – does seem like a rewind to the bad old days.' The postscript ends as follows: 'The undersea warriors of today and tomorrow will, like their forebears reckon they can beat the odds and so will nations that deploy them on war patrols. To borrow and adapt the Spanish philosopher-poet George Santayana's famous phrase, it is likely only the dead have seen the last of submarine warfare. Humanity will have to put its faith in "the better angels." The submarine, for good or ill, seems destined to play a major part in world events, and indeed its activities could yet decide the fate of all humanity.'
One chapter that particularly captured my interest is entitled 'Best of Enemies', in which the author tells readers that during the Second World War, the allies 'swept not just enemy submarines from the seas, but also eliminated entire navies'. He relates that from the inventories of the defeated fleets 'they cherry-picked a few vessels as war booty – submarines primarily, though taking other ships too, with the Russians even commissioning an ex-Italian battleship into service.'
This is a fascinating chapter but one I should now leave and let buyers of this inspiring book enjoy at their leisure. Well done Iain, I am not surprised that countless readers thoroughly enjoy your books.
* This is a condensed version of a review published in the May 2018 edition of 'Scribblings: The Journal of the Pen & Sword Club' which presents 'news, views, analysis and comment of interest to the military media operations community'. For more on that publication visit this website with further details of the club itself here.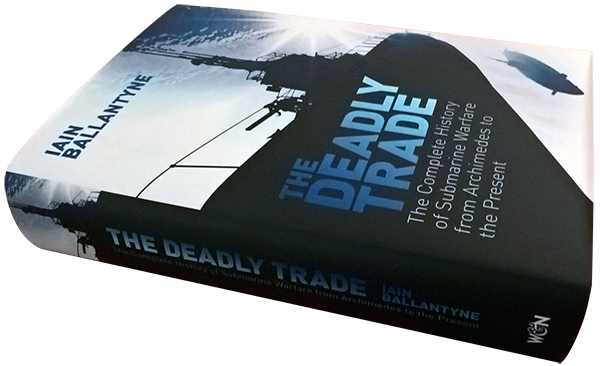 'The Deadly Trade: The Complete History of Submarine Warfare from Archimedes to the Present', is published by Weidenfeld & Nicolson (752 pages, hardback £25.00/eBook £12.99) It is available via Amazon
and Waterstones and also via other retailers and shops.