High Impact Tasters for the forthcoming WARSHIP IFR magazine
(and also 'WARSHIPS IFR Guide to the Royal Navy 2014/15')
Below is the first of three previews from the forthcoming WARSHIPS IFR June 14 edition, which I have just seen away to the publisher. This is our rather nifty centre spread from ex-RN top phot Ian Arthur, who is a total professional and not bad at the old smudges.
The RN were surprisingly positive to getting Ian aboard the RFA Argus…it was almost like the good old days. Easy access to naval vessels/units for the world's only (independent) naval news magazine of its kind!? Whatever next!? This spread also advertises our forthcoming 'Guide to RN 2014/15', which has more excellent RFA Argus/Ian Arthur work in showcased, alongside other things.
Next up is the middle bit of four pages on the newly refurbished HMS Alliance, with a few words by me, also in the forthcoming edition. It is a good showcase for the talents of Jonathan Eastland, whom I have been on many adventures with journalistically, from the shipyards of Scotland to the sandy wastes of the Middle East.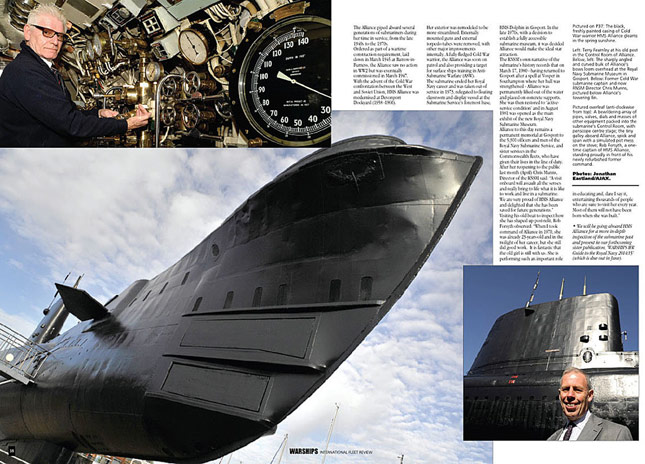 Jonathan was working to a very tight deadline on the internal shots (some also used/to be used elsewhere), which shows you what a brilliant operator he is. More on this in the 'WARSHIPS IFR Guide to RN 2014/15' also.
My thanks to the Royal Navy Submarine Museum for giving us such great access to produce our photo essay (and GTRN article) not least to RNSM Director Chris Munns and PRO Bill Sainsbury, not forgetting Terry Fearnley and Cdr Rob Forsyth (ex-Alliance submariners who played their part in various set ups).
And finally, an illustration of the benefits pinging out news images as soon as they happen – or posting them to an easily [instantly] accessible web site – as part of the democratic process of showing us what all that kit taxpayers pay for does.
It enables news magazines such as WARSHIPS IFR to provide newsy pic essays, and also to highlight happenings ignored, or given only slight mention, by most bigger media outlets. The RAF got all the headlines for shadowing Russian bombers, while the RN's efforts at sea were not given much space in the print nats (if at all) – their web sites did better of course.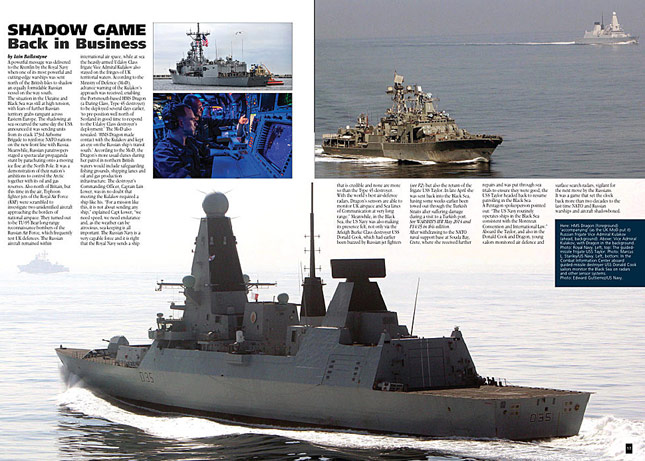 In this case we have HMS Dragon shadowing a Russian frigate – the defence picture desk did a superb job here (well done Panay T. and Neil H. at MoD – and Steve S. on the Navy side). And also well done to the RN phot in question, not forgetting the USN guys whose work also features (aboard ships facing down the Russians in the Black Sea). This also spread features in the June edition.
Some Other Content in Next Edition of WARSHIPS IFR Magazine  – on Sale from May 16
An early look at the cover of the forthcoming WARSHIPS IFR June 14 edition.
NATO BEEFS UP – The West's primary defence alliance vows to increases its presence at sea, on land and in the air to deter further Russian aggression in Eastern Europe.
THE US AIR FORCE IS DEAD…LONG LIVE USN & USMC AIR – The relevance and effectiveness of independent air forces is being seriously questioned. In this provocative article it is suggested the USAF should be abolished.
ANGLO-FRENCH FLEET ON THE HORIZON? – The navies of France and Britain are edging closer to each other as they address mutual threats, so will an Anglo-French global maritime force one-day form Europe's primary maritime partnership?
THE RISE AND FALL OF POMPEY'S POWERHOUSE – Editor-at-Large Jonathan Eastland continues his look at the history of Solent shipbuilding as a final salute to centuries old skills.
SPAIN'S LEADING FRIGATE – One of the headline units at DIMDEX 2014 was the Spanish frigate SPS Cristobal Colon, command platform for the current boss of Standing NATO Maritime Group 2 (SNMG2) Rear Admiral Eugenio Diaz del Rio.  Special Correspondent Guy Toremans talks to the frigate's Commanding Officer, Capitan de Fragata Enrique Nunez de Prado Aricio.
For more on WARSHIPS IFR visit the website
Ian Arthur's work can be seen here.
Jonathan Eastland's work can be found here.
Visit the Royal Navy Submarine Museum web site