'No captain can do wrong if he places his ship alongside the enemy'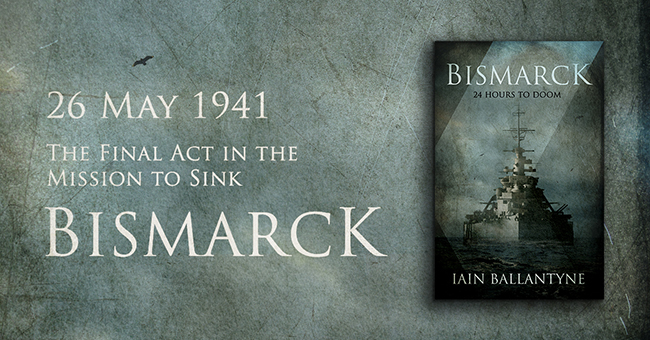 The men of  HMS Dorsetshire were, according to one post-war historian, filled with 'remorseless determination to get revenge' for Hood, which had been blown apart by the German battleship Bismarck's gunnery during the Battle of the Denmark Strait on 24 May 1941.
One of Dorsetshire's junior ratings described the feeling aboard the heavy cruiser when they heard the shocking news: "We had just left Cape Town and the ship was escorting a large convoy. Soon after we heard the news of HMS Hood and we were all devastated, could not believe it."
Transcripts of signals were scrutinised intently as they flashed back and forth between the Admiralty and other vessels actively involved in pursuit of Bismarck. The cruiser's command team pondered which direction Bismarck might be heading. Calculations were made and nobody was keener for the fight than the cruiser's Commanding Officer, Captain Benjamin 'Pincher' Martin.
Capt Martin would soon by his actions follow Nelson's instruction to his COs before the Battle of Trafalgar: 'In case Signals can neither be seen or perfectly understood, no captain can do very wrong if he places his Ship alongside that of an enemy.'
George Bell, aged 17, was at the time the Captain's Messenger, tasked with taking important instructions wherever needed in the ship and as such he was stationed on the bridge of the cruiser.  "Captain Martin told us what we were going to do," Bell recalled, "but, we thought, if Bismarck does come our way, gosh what chance do we stand?"
However, the men of the County Class cruiser were also resolute in playing their part in ending the German raider's foray into the North Atlantic. "…the last thing we wanted was to allow Bismarck under any circumstances to stay out and cause havoc to our convoys," explained George. "We didn't know what state Bismarck was in, or even what kind of British fleet there was chasing her. We knew the Hood had been sunk and that Bismarck was on the loose."
At 11.00am on May 26, Dorsetshire intercepted a report confirming Bismarck's position and heading had finally been fixed, the British cruiser and her convoy being around 600 miles to the west of Cape Finisterre. Bismarck was just 300 miles due north, Captain Martin believing he had a good chance of finding her if she was headed for Brest.
Despite facing stormy weather, the cruiser charged north at high speed. At one point her main turrets trained, water cascading off their 8-inch guns, to aim at a smudgy silhouette just visible rising and falling on mountainous seas.
It turned out to be a small Portuguese merchant ship that very quickly gave her identity, semaphore light winking from her bridge – lest she be blown out of the water by the British warship that lunged out of the murk and was soon gone again.
To read more of the story from the band of brothers who took on the German battleship in the finale of 26/27 May 1941 read 'Bismarck: 24 Hours to Doom' published by Agora Books and available via Amazon as a e-book or hardcopy in the UK and also the USA

Iain Ballantyne tells the story of the Bismarck Action from various points of view across three of his books – 'Bismarck: 24 Hours to Doom', 'Killing the Bismarck' and 'HMS Rodney' (the latter two published by Pen & Sword). All three convey the stories of people in the big ships, along with major twists and turns, while also providing the perspective of destroyer and cruiser sailors, along with aviators. More information on Iain Ballantyne's books here.