Hunter Killers – From Hitler's Fall To Putin's Rise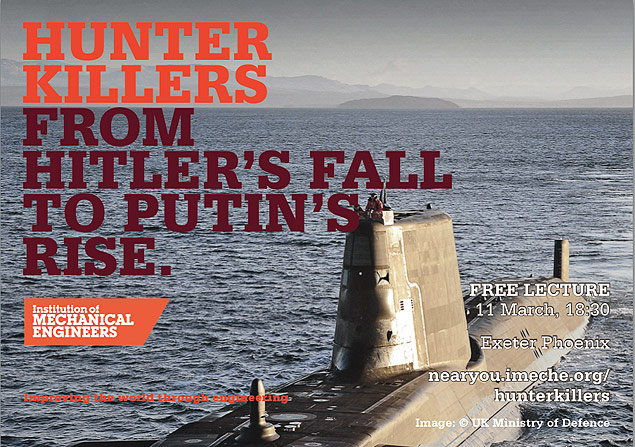 Preparing to headline an event at Exeter on March 11 is causing me to ponder how the post-WW2 face-off beneath the waves caused both sides to initially adapt Nazi submarine technology.
Looking across the span of the Cold War it seems to me that it was unique. For it was the first time in history that submarine evolution had received a sustained and intensive investment of industrial resources, brainpower and national treasure, lasting decades rather than just a short burst of activity.
Prior to the late 1940s, interest in creating ever more lethal and efficient submarines had been intermittent.In those earlier eras it was related to a military-technical need that lasted for a short period only. Opposing sides would seek to find a radical means of gaining the edge on each other. This was the case all the way from the Anglo-Dutch Naval Wars of the 1600s, through the Napoleonic Wars to the American Civil War and even during WW1 and WW2. As soon as the wars ended so did much of the interest, and investment in, submarine warfare technology.
During the Exeter event I will aim to explain that a white-hot submarine arms race drove NATO and the Russians to enter a dangerous game of nuclear cat-and-mouse where a single mistake could have spelled catastrophe.
I will aim to conclude with a look at how a resurgent Russia is once more sending its submarines out to confront the West. It strikes me that today, with Putin's Russia investing billions in nuclear-powered submarines – and his navy becoming ever more daring as it faces down the West at sea – a new game is afoot and threatens to potentially become just as dangerous as the Cold War.
China is also pouring billions into submarines, creating a similar rivalry on the other side of the world.
We live in interesting, and increasingly risky, times…
Anyone interested in coming along to the event – and I am one of three speakers though the event is headlined by 'Hunter Killers' – should contact the organizers, the Institution of Mechanical Engineers.
Full details of my book 'Hunter Killers' here